Product Details: State (CA) and Federal Labor Law Poster
Review detailed information about your item here...
To place an order for this product, click the "
Add to Cart
" button below. Once your item has been added to the cart, you may continue with your order. Thank you!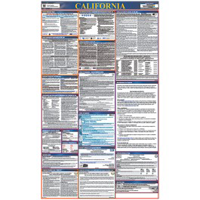 State (CA) and Federal Labor Law Poster
SKU:
llposter
Price : $34.95
Member Price:: $26.21 - $29.71

Our product at a glance...
Mandated state and federal postings are required per federal and state applicable law and limit employer liability when posted properly and regularly. Stay up to date and maintain your labor law posters regularly.

Depending on the item being purchased, applicable shipping and handling charges may apply.
We utilize the United States Postal Services when shipping out our products. Under most circumstances, unless the customer requests otherwise, we ship via U.S. Priority Mail (2-3 Business Days from date of shipment).

Business Partner Discount
HRC Members can apply their Business Partner Discount toward most HRC services and products. The Business Partner Discount is part of the HRC's Associate, Preferred, and Standard Membership relationships. For a member to apply their discount to their online order, they must sign in to their user account. Our online shopping process will prompt for your sign in.
Associate Member = 25% Discount
Preferred Member = 20% Discount
Standard Member = 15% Discount