our new brand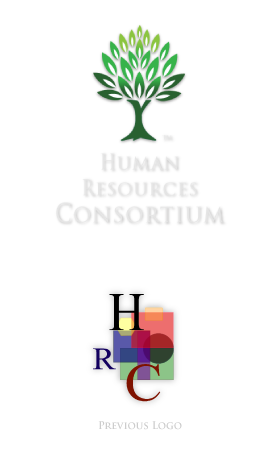 Redesigned to Redefine...
This is the first time the HRC has redesigned its business brand since 1993...
Our New Logo
Our new logo now has both an objective and subjective representation. As a tree depicting life and its individual leaves extending that life, human resources management is an expression of every individual in the organization as its life and breath.

We can no longer just look at employees as commodities, but as the life-blood of the organization. With this new philosophy, it is now the responsibility of HR Management to provide employees with the opportunity for growth and development and to make the world of work a pleasant experience. The tree also implies that the leaf is worthy of individual attention to preserve life and sustainability.
The Old Logo
Our old logo with its multiple colors and geometric features demonstrated diversity in the workplace. It has been the prevailing opinion for the last four decades that human resources management has been one of diversity, with equal representation and non-discrimination. However, HR management has not remained static. HR management has evolved and has become more generalist oriented with emplasis on employee welfare.